Have you ever been to Cyprus? Did you know that Cyprus is not only a Top Tourist Destination, but also a top level sports training destination?

If you have been to Cyprus before, we know you keep coming back anyway. If not, don't miss out the chance to visit our beautiful Mediterranean island with Amazon Sports Services.
The geographical position of Cyprus in the Mediterranean Sea, its history of more than 9000 years, its golden sandy beaches, its luxurious vegetation, its timeless picturesque villages in striking contrast to modern cosmopolitan towns and its friendly warm hearted inhabitants are the secret charms of Cyprus that contribute to making your stay a wonderful and unforgettable experience.





GENERAL INFORMATION ABOUT CYPRUS
Cyprus lies in the Northeast corner of the Eastern Mediterranean and marks the cross roads between Europe, Asia and Africa. It is the third largest island in the Mediterranean with an area of 9,251 square kilometres. It is an island of contrasts. A young republic, yet with a history stretching back thousands of years. It is said that Aphrodite, the Goddess of Beauty and Love was born here (the first picture above is Aphrodite's birth place)
Cyprus is the warmest island in the Mediterranean with an unbroken sunshine of 340 days a year. The four seasons are clearly defined and winter temperatures range between 4-13 °C while in the summer temperatures are around 21-39° C. Spring and Autumn are characteristically mild and sunny with temperatures around 15-20 °C. It usually rains between November and March. There is snowfall on the Troodos Mountains during January and you can ski until March. A 20 minute car-ride from Troodos Mountains you can enjoy the Sun and the Sea even during the winter period.

Hospitality is our trademark: The people of Cyprus are warm, friendly and naturally hospitable, and it is a genuine pleasure for us to welcome visitors - perhaps because they have been doing just that for thousands of years.

Geographical Crossroads: As the third largest island in the Mediterranean, with its unique proximity to Europe, Asia and Africa, Cyprus has been coveted, won and lost by countless civilizations over the centuries.

3000 years of History and Civilization: Since the Mycenean Greeks settled here over 3,000 years ago establishing the Greek civilization on the island, we have seen Phoenicians, Romans, Crusaders, Franks, Venetians and other conquerors who have all left their mark here and helped to shape the island's special character. Aphrodite, mythological goddess of beauty and love, was born in the foam of our warm seas, and spawned a huge cult in pagan times. Yet on those same shores St. Paul himself was to introduce Christianity to Cyprus - by converting the first ever Roman Governor - in 45 AD.

Island of beauty and variety: Cyprus is an island of great beauty and endless variety. Golden beaches and rugged coastline are contrasted by the impressive backdrop of unusual mountain ranges. Greek temples, Roman, remains, Byzantine churches and Crusader castles, inspire fascinating excursions.
More than 40 airlines including Cyprus Airways operate over 200 scheduled and chartered flights weekly between the International Airport of Larnaka and Pafos to most European and Middle East countries. Flying from Athens is approximately a 1½ hour flight, from London 4 ½ hours, Frankfurt 3 ½ hours and Rome 3 hours. If you need more information you can find a complete Travel book here.
| | |
| --- | --- |
| Flight Time FROM Cyprus TO: | |
| - London: 4 hours 30 min. | - Paris: 3 hours 30 min |
| - Vienna: 3 hours | - Zurich: 3 hours |
| - Frankfurt: 3 hours 30 min | - Athens: 1 hour 40 min |
| - Amsterdam: 3 hours 30 min | - Stockholm: 5 hours |
| - Bahrain: 3 hours | |
Cyprus cuisine is closely related to that of Greece, but the island's unique position at the crossroads of Europe, Africa, and the Middle East has added exotic dimensions that make it particularly varied and delicious. Emphasizing fresh local ingredients, regional herbs and spices, and the light use of natural olive oil, the Cypriot palate is quintessentially Mediterranean in character.
If freshness (see markets, below) is one key to cooking in Cyprus, meze is the other. An abbreviation of mezedes, or "little delicacies," meze consist of as many as 30 small plates of food, from savory dips and vegetables to a wide range of fish and meat dishes. Much more than hors d'oeuvres, the meze often comprise the heart of a meal itself. In some restaurants and tavernas you can choose to order seafood meze or meat meze.
Among the items you can expect to be served are: Loukanika, coriander-seasoned sausages, soaked in red wine and smoked; Koupepia, grape leaves stuffed with minced meat and rice; Lountza, smoked pork, often served in sandwiches with halloumi, a delicious soft cheese, (usually grilled) made from thyme-fed sheep and sometimes spiced with peppermint; sheftalia, grilled pork sausage, afelia, pork marinated in wine and coriander; stiphado, beef or rabbit stew casseroled with wine vinegar, onions and spices; and ofto kleftiko, chunks of lamb cooked in a sealed clay oven and seasoned with bay leaves.
Seafood dishes include calamari, octopus in red wine, barbouni (red mullet), and sea bass. Some common vegetable preparations are potatoes in olive oil and parsley, pickled cauliflower and beets, zucchini, kolokasi (a sweet potato-like root vegetable) and asparagus.



There are also the Greek classics taramosalata, fish roe blended into a creamy pink dip of pureed potatoes with parsley, lemon juice and finely chopped onion; talatouri, cool mint and cucumber flavored yogurt with a dusting of garlic, a variation on the Greek tzatziki;
Greek salad (horiatiki salata) with tomatoes, lettuce, bell peppers, feta cheese, green olives and local herbs; moussaka, the traditional Greek dish of minced meat and eggplant topped with creamy bechamel sauce; and souvlakia, kebabs of pork, lamb and chicken.
Cypriot desserts often consist of fresh fruit, served alone or with a selection of sweet pastries or fruit preserved in syrup. These include loukoumades, Cyprus doughnuts with honey syrup, daktyla, ladyfingers with almonds, walnuts and cinnamon, and shiamali, orange semolina cakes cut into squares. In cafes, popular snacks include kolokoti, a pastry triangle stuffed with red pumpkin, cracked wheat and raisins, and pastellaki, a sesame, peanut and honey syrup bar. There is also galatopoureko, a cream-stuffed phyllo pastry. A traditional sweet treat is loukoumia, cubes of gelatin flavored with rose water and dusted with powdered sugar.
Food Related Links: Food Guide - Cyprus Cookbook & Recipes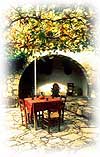 A diverse range of accommodation awaits visitors to Cyprus, from cozy agrotourism villas in the hill towns to three, four and five star hotel resorts. At hotels visitors will generally find modern, up to date common areas, contemporary room furnishings and a high level of service unique to the Mediterranean region. Most international hotels (three or more stars) have at least one swimming pool and usually at least one restaurant. Buffet style dining is popular and presents diners with a bountiful array of market fresh Cyprus and international cuisine.
Hotel apartments are popular options among some visitors. They are ideal for longer stays, for the budget-conscious and for those who value independence over all else. Rates for hotels and hotel apartments are available on request. Click here for a complete hotel and hotel apartment directory.
Cyprus offers a wide variety of holiday accommodation, ranging from modern, large and luxurious establishments, to small and simple family run operations.





Holiday accommodation includes:

(a) Hotels
(b) Hotel Apartments
(c) Tourist Villages
(d) Tourist Villas
(e) Camping sites
(f) Traditional Houses (Hotels, Hotel Apts)
(g) Tourist Apartments
(h) Furnished Apartments
(i) Guest Houses
(j) Youth Hostels
Most Hotels and Hotel Apartments have swimming pools, tennis courts, sports facilities, sauna, air conditioning in rooms etc. The rates charged by these establishments are approved by the Cyprus Tourism Organization. Most operations offer special off–season discounts on the accommodation rates, usually during the period from the 16th November to the 15th March, excluding the fortnight between the 20th December and 6th January.
Languages: English is spoken in all hotels; French and German are also widely spoken.
ACCOMMODATION IN PRIVATE HOUSES IS NOT AVAILABLE IN CYPRUS
Hotels Guide
The Cyprus Hotel Guide includes the Hotels and Tourist Establishments officially registered and classified by the Cyprus Tourism Organization in accordance with the provisions of the Hotels and Tourist Establishments Law and Regulations. The Hotels are classified into classes from 5 to 1 Star, Traditional Hotels, "Hotels without Star" and "Guest Houses", as opposed to Luxury, A', B', and C' class of Tourist Establishments (i.e. Hotel Apartments, Tourist Villas, Tourist Villages, Traditional Houses and Camping Sites). All the accommodation establishments are listed by town / area, type, category and class, and are in alphabetical order. Detailed information on terms of stay, rates, discounts and facilities offered by each hotel operation is included in the Guide, a copy of which can be obtained, free of charge, from any of the Cyprus Tourism Organization Offices in Cyprus and abroad. Click here to see a complete Hotel Guide of Cyprus.
Crime in Cyprus is, comparatively, at a very low level. The Police is always ready to assist anyone who needs help. In case of emergency, one may telephone 199 or 112 (in all towns). All policemen speak good English.
Health & Safety / Inoculations
Medical care-needs in Cyprus are met through:
1. Government General Hospitals
2. Private Clinics/Hospitals
Government General Hospitals and Private clinics/hospitals are mostly concentrated in urban areas, while health centers, sub-centers, and dispensaries function in the rural areas, providing a network to meet the medical needs of the whole population.
All Government General Hospitals as well as some private clinics have Accident and Emergency Departments for emergency cases.
Medical treatment and assistance is offered free of charge to international tourists in case of health emergencies at the Accident and Emergency Department of Government Hospitals/Institutions. Out-patient and in-patient treatment is provided against payment of the prescribed fees. Holiday-makers can also make use of their health insurance, which covers medical expenses, provided that this insurance covers the length of their stay on the island.
Almost all brands of manufactured medicines are available in Cyprus. Local newspapers list pharmacies which are open during the night and on weekends/holidays, as well as the names of doctors who are on call on weekends/holidays.
Most hotels make arrangements for Medical services for their guests upon request. The majority of doctors are English speaking.
FOOD SAFETY AND DRINKING WATER QUALITY
In Cyprus the safety of food and drinking water quality is monitored by the Health Inspectors of the Medical and Public Services of the Ministry of Health and the Local Authorities. Food and drinking water are of high quality, absolutely safe and no food or water-bore diseases occur.
Water is safe to drink in Cyprus, as water pollution is negligible and every home has fresh running drinking-water.
All the District Water Boards are in constant collaboration with the Government Health Services and the General Laboratory for the prevention of any toxicological and bacteriological infection of water in Cyprus.
Tap-water in hotels, restaurants, public premises, etc., is safe to drink.
Cyprus is also free from dangerous infectious diseases. No vaccination requirements for any International Traveler.
Climate: Climatic conditions in Cyprus can be termed as excellent from a health point of view. Therefore, the climate is ideal for holiday travelers throughout the year.
Telecommunications in Cyprus are provided by the Cyprus Telecommunications Authority (CYTA) www.cyta.com.cy, which is a Corporate Body responsible for the provision of telecommunication services both nationally and internationally.
Services provided include telephony, telefax, data transmission (packet swithing), mobile telephony (NMT900 and GSM), paging, telex, telegraphy, maritime, TV transmission / reception, private leased circuits, audiotex, video conferencing, ISDN, FR/ATM and Internet.
Telephone Service: Today, a subscriber can access automatically from Cyprus subscribers in practically every country in the world through telephone, telefax and telex. For telephone inquiries regarding subscribers in Cyprus dial 192, whereas for foreign subscribers, country and trunk codes dial 194.
Public Card phones and Payphones: Telecard or coin operated public telephones are installed at various central locations in all towns and villages, as well as at the International Airports, Harbours, Marinas and other locations. Telecards of £3, £5 and £10 denominations may be purchased from banks, post offices, souvenir shops, kiosks and from CYTA's Customer Service offices in all towns. Coin operated telephones accept coins of 2, 5, 10 and 20 cent denominations. All public cardphones and payphones may be used for national and international calls. Dialing instructions, international codes and charges are posted in all public telephones.
Reduced Telephone Rates: The Authority offers reduced telephone rates for trunk and international calls during off peak hours: Trunk calls (between districts) 20:00–07:00 every day. International calls 22:00–08:00 every day and all day Sunday.

ISDN: Intergrated Services Digital Network is the new Telecommunications dial-up medium that offers rapid and error free communication of voice, data, images and video on a single digital line.
MOBILE TELEPHONY (GSM 900/1800): Travellers may use their GSM phones while in Cyprus, provided that a Roaming Agreement has been signed between CYTA and their service provider. Roaming Agreements have been signed with 169 service providers from 79 countries worldwide. Updated information regarding the service may be obtained by calling CYTA's Customer Services Department at 132.
CYTANET: CytaNet is the largest and most experienced Interned Services Provider in Cyprus and Middle East, providing connections via the public telephone network (56kbps), the Intergraded Services Digital network (ISDN), (64 kbps & 128kbps) and leased lines. With a dynamic portfolio CytaNet is able to satisfy all of its customers needs. www.cytanet.com.cy
CytaNet for All: With the introduction of this service CytaNet is accessible to all. With no monthly subscription and only 2 cent per minute, it provides fast, easy and simple connection to the Internet world. All that is needed is to type at the username field the word "cytanetforall" and at the phone number field "0992626".
The best way to travel around Cyprus is by car. It is possible to rent a modern car either before your departure or once in Cyprus with a local agency. Vehicles are available with both manual and automatic transmissions. As for roads, they are generally well - paved and modern, except for some mountain areas. The main thing to remember is that in Cyprus, driving is on the left, as in the United Kingdom. On the motorways, maximum speed is 100 kilometres per hour. Use of mobile phones at any time while driving is strictly prohibited, unless a hands-free equipment is used.
If you don't wish to drive yourself, communal "service taxis" are another option. They provide connections between all major towns every half hour. Regular taxis are reasonably priced and are especially good options for airport transfers on the first and or last day of your trip.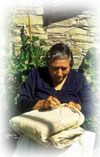 Lacework and embroidery, pottery and woodwork, and jewelry. . . the artistic heritage of Cyprus is a reflection of the island's history and traditions that have endured for centuries. Most of the raw materials used in crafts, from copper to silk and cotton, are native to Cyprus. The government has actively strived to preserve local craftworks since 1975, with the establishment of the Cyprus Handicraft Service. There is a large Cyprus Handicraft Centre in Lefkosia and official crafts shops as well as folk art museums in Lefkosia, Lemesos, Larnaka and Pafos.
Cypriot lacework is prized for its quality and artistry. The village of Lefkara is particularly well-known for its embroidery, called Lefkaritika. Embroidered lace, worked on off-white linen or cotton, makes for highly decorative tablecloths, curtains, doilies, placemats and dresser sets. A specialty of Pafos is Pafitika, fabric embroidered with geometric designs.
Pottery has been made in Cyprus continuously for thousands of years. Attractive pots come in all shapes and sizes. Terra cotta pieces with white decorations, copies of museum pieces, are popular gifts, as are copper wares, hand-painted gourds and handmade baskets, and jewelry with motifs from antiquity.
There are also several independent crafts stores and workshops in villages such as Lemba, Omodos and Laneia. Lemba is known for its pottery. In Omodos and Laneia one may find workshops for glass blown objects and mosaic making. Contemporary shopping abounds in Lefkosia, Lemesos, Larnaka and Pafos.
Government: Cyprus is an independent sovereign Republic with a presidential system of government. Under the 1960 Constitution, executive power is exercised by the President of the Republic, elected by universal suffrage for a five-year term of office. The President exercises executive power through a Council of Ministers appointed by him. Ministers may be chosen from outside the House of Representatives.
The Republic of Cyprus is a member of the United Nations Organisation and U.N. Agencies. It is also a member of the Council of Europe and is linked with the European Union through a Customs Union Agreement. On 4 July, 1990, the Republic of Cyprus applied to the EU for full membership. Moreover it is a member of the Commonwealth and the Non-Aligned Movement and participates in the Organisation of Security and Cooperation in Europe.
Legislature: The legislative authority in the Republic is exercised by the House of Representatives now consisting of eighty members (56 of whom are to be Greek Cypriots and 24 Turkish Cypriots) elected by universal suffrage for a five-year term. At the time of its establishment, the House consisted of 50 members, 35 of whom were to be Greek Cypriots and 15 Turkish Cypriots. According to the constitution the ratio is 70% Greek Cypriots and 30% Turkish Cypriots. Following the withdrawal of the Turkish Cypriot members, the House has been functioning only with the Greek Cypriot members.
Judiciary: The administration of justice is exercised by the island's separate and independent Judiciary. Under the 1960 Constitution and other legislation in force, the following judicial institutions have been established: The Supreme Court of the Republic, The Assize Courts, District Courts, Military Court, Industrial Disputes Court, Rent Control Courts and Familiy Courts. The Supreme Courts is the final appellate court in the Republic and the final adjudicator in matters of constitutional and administrative law.
Political Background: In July 1974, Turkey, using as a pretext the criminal coup against President Makarios, invaded Cyprus in violation of the UN Charter and all principles governing international relations. As a result 37% of the island was occupied, 200 000 Greek Cypriots, who were forcibly expelled from this area, became refugees in their own country and are still deprived of the right to return to their homes and properties. In addition, 1 619 Greek Cypriots are still missing. The blow was heavy. Byzantine churches, monuments and antiquities were destroyed or looted and many items were smuggled abroad. Sadly, the island's cultural heritage that reaches back to the 7th millennium B.C. and is part of the common heritage of mankind, continues to this day to be systematically and deliberately destroyed in the occupied areas.
Moreover, large numbers of colonist settlers from Turkey have been transplanted illegally to the occupied part of Cyprus and given properties usurped from the expelled Greek Cypriots. Turkish settlers are estimated at about 114,000 at the end of 1997. At the same time Turkish Cypriots have been emigrating in large numbers, resulting in diminishing the size of the Turkish Cypriot community in the occupied part. All this, coupled with a strong military presence in the occupied areas (estimated at 40 000 Turkish troops) and an attempt to change the place names of villages and towns into Turkish ones, is clear evidence that Turkey is turning the occupied part of Cyprus into a Turkish province.
A series of UN General Assembly and Security Council resolutions condemned the invasion of Cyprus and occupation, demanded the return of the refugees to their homes in safety and the tracing of the missing persons and called for respect of the human rights of all Cypriots. Moreover, the European Commission of Human Rights found the Government of Turkey guilty of gross violations of human rights in Cyprus during and after the invasion.
In November 1983 Turkey instigated the announcement by the Turkish Cypriot leadership of "an independent state" in occupied Cyprus. The international community through UN Security Council Resolutions 541 of 1983 and 550 of 1984 condemned this unilateral declaration by the Turkish side, declared it both illegal and invalid, and called for the immediate withdrawal of the declaration. The opinion of the international community was ignored by Turkey but no other country has recognized the illegal regime.
Negotiations for the solution of the Cyprus problem have been going on intermittently since 1975 under the auspices of the United Nations, but progress has been obstructed by Turkish intransigence. As the UN Secretary General stated in a report "the absence of agreement is due essentially to a lack of political will on the Turkish Cypriot side". This attitude of Turkey as well as the continuing violation of the fundamental human rights of the people of Cyprus have been condemned by international bodies such as the UN General Assembly, the European Parliament, the Non-Aligned Movement, the Commonwealth and the Council of Europe.